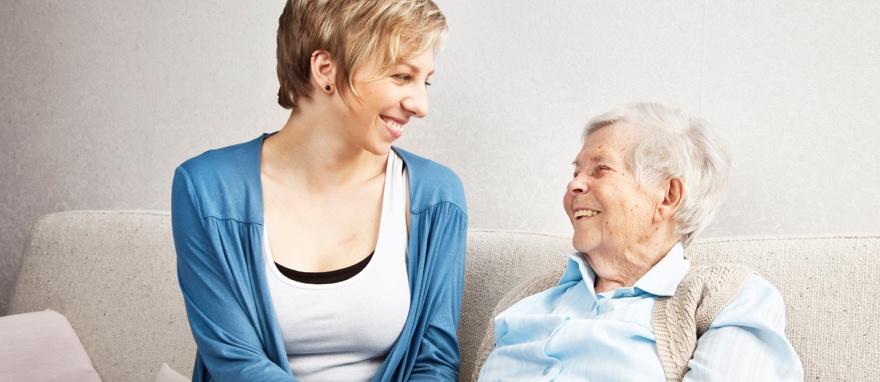 Experience the Joy of Volunteering at
The Inn on Villa Lane
Adults, Youth and Groups are Welcome!
We are pleased you are interested in becoming a volunteer at our community. Whether you are 16 or 85, we LOVE volunteers and we have a wide variety of opportunities for individuals or groups who enjoy spending time with older adults.
It's easy to understand the positive impact that volunteers have on others, but we don't often consider the impact it has on the volunteer.
Reasons to Volunteer
1Regularly volunteering gets older adults out into the community with people who count on them for their services and abilities and give older adults purpose and a sense of responsibility.
According to the Corporation for National and Community Service, research shows that volunteering is associated with active lifestyles and health benefits.
2Volunteering keeps seniors active for longer. No matter if it's taking a walk with a resident, assisting in the dining room, or helping out with activities, volunteering keeps older adults physically active. According to the CDC, physical exercise and an active lifestyle can prevent many injuries and disease
3Participating in meaningful social activities, like volunteering, can improve longevity, improve mental health, and reduce the risk of dementia, according to National Institute on Aging.
4Gain knowledge. Many older adults have had experiences in life that differ a great deal from younger generations. Hearing their stories can provide new perspectives for your life.
5Gain Job Experience. Volunteering can provide you with valuable experience for any career and helps you to build relationships that can provide networking opportunities and improve you interpersonal skill. You can also get a letter of reference when needed.
6Improving the Life of the Residents. While volunteer opportunities vary, building relationships with residents can be very rewarding. Doing something that may seem simple to you, like taking the time to sit and chat or going on a walk with them, can make a huge difference in their lives.
7Make New Friends. Volunteering also offers the chance to make new friends. Forming friendships with the residents of the community can be a most rewarding experience. While initially you may feel as if you have very little in common, you may be quite surprised at how much you truly do share.
8Community Service. Whether your school requires you to complete a certain amount of community services hours before you graduate or you are just looking to improve your college applications and resume, volunteering at an assisted living community is a great way to do so.
A Sampling of Volunteer Opportunities
Visit with residents one on one
Help with parties, arts and crafts and music programs
Perform music for residents
Go for walks with residents who can't go out without an escort
Working in the library
Play games, cards, put together a puzzle or read to residents
Serve or accompany residents to meals in the dining room
Bring a trained pet for residents to enjoy
Assist at the front desk
Help residents address and write cards
Share a hobby
Assist with the Music and Memory program
Help with planting and watering in the garden and yard
Help with cleaning projects (walker/wheelchair "car wash")
Assisting with weekly bus trips or Happy Hour
Requirements to be a Volunteer
You must be at least 16 years of age to volunteer individually. No age requirement if part of a school group or accompanied by a parent.